To say that I was app happy when finding a tweet about this upcoming app on Twitter is an understatement.
When I saw this tweet, I immediately had to look into it!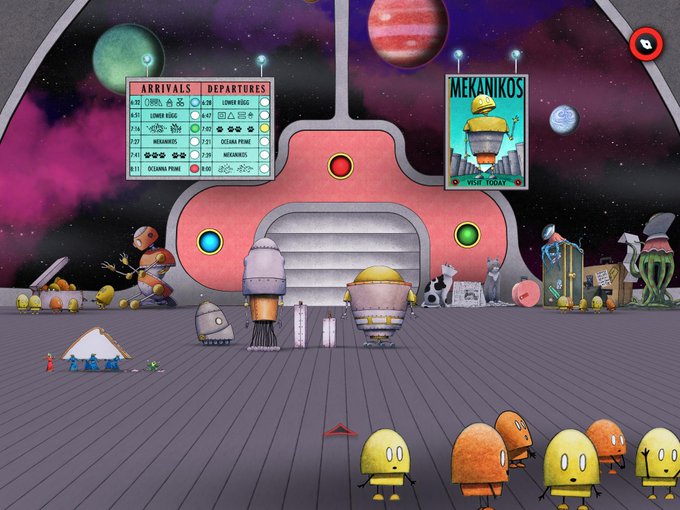 Here is the official trailer for Wiesner's app:
Here is a behind the scenes look at the creation of the app:
I like the idea that the students enter several different worlds inside the app as they pinch and zoom to look more closely. Every time the student zooms in, the story changes. It would be fun to let the kids explore the app and then decide which part of the story they'd like to tell. I think I would teach story elements along with the app and have the students map out the story elements for the part of the story they choose to tell before writing their stories. The educator's guide covers many skills including point of view, comparing and contrasting, story elements, and making inferences. Below is a list of titles that I feel lend themselves to pairing well with this app. Please leave a comment and suggest any more titles as well as ideas for implementing this app in the classroom or in your library.
Of course, several of Wiesner's books require the reader to look closely and use images to tell the story.
Zoom and Re-Zoom by Istvan Banyai also draw the reader into the story with the illustrations-both are wordless picture books.
Looking Down by Steve Jenkins zooms closer and closer in each frame. Very similar to the concept of this app.
Journey
and
Quest
by
Aaron Becker
are wordless picture books that require the reader to look and look again to tell the details in the story. Also, be on the lookout for
Return
coming soon!
Journey book trailer.
Quest book trailer.
I can't wait to try the app out on my own kids tomorrow and with the kids at school when we return!
Please comment and leave any inspiring ideas that you have for using the app or book titles that pair well.